I can't believe how quickly the summer has flown by. This week,
this week
, I go down to Oregon and move into the dorms.
And although I still can't knit because my wrist is messed up, I've amused myself in other ways.
See? It's terribly bad for my budget, but what can one do for
an addiction
hobby? Plus, you have to factor in the fact that these are my purchases since I last posted yarn pics. The three magazines are the new Fall 06 issues of Vogue Knitting, Interweave Knits, and Knit Simple.
The book on the far left is Double Exposure. Speaking of DE, I bought lots of yarn today. Yarn that isn't even in the picture on the right. What does this have to do with DE?
I'm making
Edna
, which is a great vest pattern. It requires a mc and a cc, and I knew I wanted the cc to be white. I bought the Dark Horse yarn above in the aim of making several different swatches, each using a different mc, then I would buy more of the one I liked. But when I made the swatch I did not like the way the acrylic fuzzed with only the slightest bit of use. It was soft, but although the vest pattern knits up quickly I didn't want to put that much time into a project only to have the yarn cop out and look old the first time I wore it. So I said goodbye to the acrylic and onto plan B.
Plan B involved finding a soft, durable, heavy worsted weight yarn that I could buy immediately, all of the same dyelot, without having to special order. This unfortunately ruled out my LYS, as the worsted weights we have would be too rough, not in the color I wanted, or not enough skeins. Say goodbye to the nice discount.
Without the discount I knew this shopping endeavor would cost a pretty penny. The absolute bare bones cheapest version of this in Dark Horse would cost around $60. Any natural fiber would immediately cost more, especially since I'm uber sensitive to natural fibers.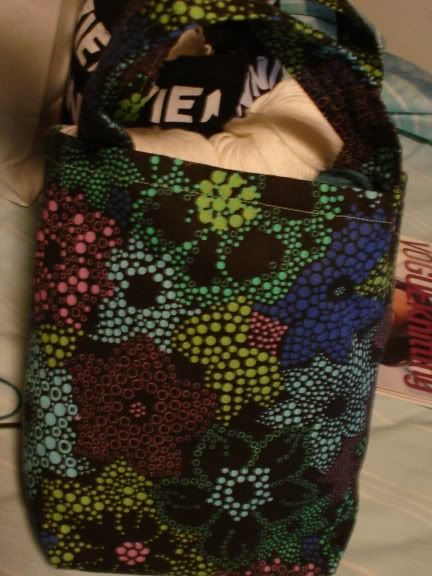 So in conclusion to the plan B expedition, I am not going to say how much I spent on the yarn for Edna, just that I'm very happy I chose the yarn I did. This is the bag I
filled up
with the pretty yarn for Edna.
And the winner was... Debbie Bliss Cashmerino Aran! (You see why I won't tell you how much I paid for it? hint:: It's part
cashmere
) Lovely yarn. Depending on how this one knits up I might just make a sweater of this, if I can swallow the price.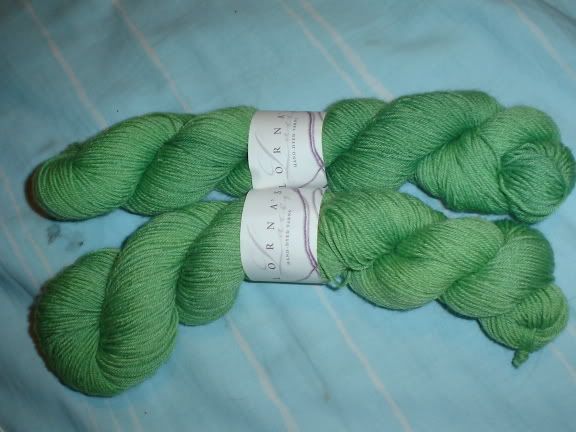 When I went to buy the yarn I got a liitle distracted by some pretty
Lorna's Laces
Shepherd Sock in one of my two favorite colors: lime green. It's going to be a pair of socks, of course. But I want to make Edna first.
However, I still can't knit. Even though its been several weeks since my tendon sprain, my hand is still giving me a lot of pain. Enough that I'm typing with one hand and had to knit my Edna swatch English style rather than Continental. I tried using Continental to knit a swatch with the DB Cashmerino, and I managed. For four rows. And I had to take a break after each time I had knit a row. After those four rows, I just couldn't knit any further. Since the doctor I went to about my hand said it was just a sprain, he told me to take the brace I'm wearing off in two weeks and use the wrist normally, which would be today. Huh. Good probability of
that
happening, so I'm going to see a specialist and see if maybe he was wrong on the diagnosis as well.
Good times.
By the way, my yarn stash is growing. It take's up an entire shelf now. Mind you this yarn is of the good, non-recycled/non fun-fir variety. That's been banished to the closet.